Sell My Motorcycle in New Mexico
Get instant cash for any type of motorcycle in New Mexico-NM
We are here in New Mexico for providing best deal to you. We offer you to pay you top dollars in very short time of period. We pay and pick up in the same day with out taking much time on it. We always buy all types of motorcycles, sports bikes, ATVs for cash. Our customer representatives are nation wide in USA for making cash for motorcycle.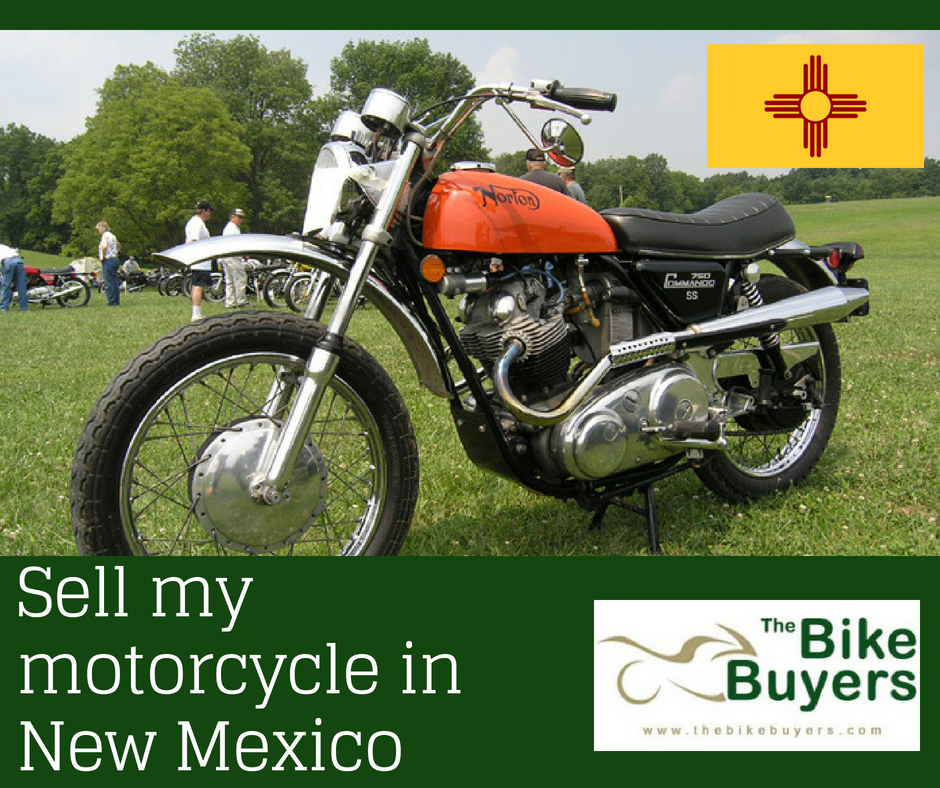 Qualities of TheBikeBuyers.com:
Get as much as possible cash for your motorcycle in New Mexico-NM
We are one of the largest wholesalers in the USA
Enjoy the best selling of your motorcycle in USA
We pickup your motorcycle according to your convenience
We buy any motorcycle for cash and return you top dollars
Make money by recycling your motorcycle in New Mexico
We are working with professionals, they know their duty
Customer satisfaction is our first priority
We offers you to provide much better cash than any other motorcycle buying company in USA
Selling a motorcycle in New Mexico is not a difficult task for any person. Because the largest buyers of motorcycle is in your location. TheBikeBuyers.com always believes in making a fair deal with our customers. We are easily available all over in USA. We provide best solution in making deal for you. Fill an online form available on our website in Get a Quote section. Fill this form as per the situation of motorcycle. You can also contact us by giving a call on the following number 877.751.8019.
Here are some of cities in New Mexico – NM we service:
New Mexico  |  Abiquiu  |  Alamogordo  |  Albuquerque  |  Alcalde  |  Algodones  |  Alto  |  Amalia  | Amistad  |  Angel-Fire  |  Animas  |  Anthony  |  Anton-Chico  |  Aragon  |  Arenas-Valley  |  Arrey  | Arroyo-Hondo  |  Arroyo-Seco  |  Artesia  |  Aztec  |  Bard  |  Bayard  |  Belen  |  Bent  |  Berino  | Bernalillo  |  Blanco  |  Bloomfield  |  Bluewater  |  Bosque  |  Bosque-Farms  |  Brimhall  | Broadview  |  Buckhorn  |  Buena-Vista  |  Caballo  |  Canjilon  |  Cannon-AFB  |  Canones  |  Capitan  | Caprock  |  Capulin  |  Carlsbad  |  Carrizozo  |  Carson  |  Casa-Blanca  |  Causey  |  Cebolla  | Cedar-Crest  |  Cedarvale  |  Cerrillos  |  Cerro  |  Chacon  |  Chama  |  Chamberino  |  Chamisal  | Chaparral  |  Chimayo  |  Church-Rock  |  Cimarron  |  Claunch  |  Clayton  |  Cleveland  |  Cliff  | Clines-Corners  |  Cloudcroft  |  Clovis  |  Cochiti-Lake  |  Cochiti-Pueblo  |  Columbus  | Conchas-Dam  |  Continental-Divide  |  Cordova  |  Corona  |  Corrales  |  Costilla  |  Counselor  | Coyote  |  Crossroads  |  Crownpoint  |  Cuba  |  Cubero  |  Cuervo  |  Datil  |  Deming  |  Derry  | Des-Moines  |  Dexter  |  Dixon  |  Dona-Ana  |  Dora  |  Dulce  |  Eagle-Nest  |  Edgewood  | El-Prado  |  El-Rito  |  Elephant-Butte  |  Elida  |  Embudo  |  Encino  |  Espanola  |  Estancia  | Eunice  |  Fairacres  |  Farmington  |  Faywood  |  Fence-Lake  |  Flora-Vista  |  Floyd  |  Folsom  | Fort-Bayard  |  Fort-Stanton  |  Fort-Sumner  |  Fort-Wingate  |  Fruitland  |  Gallina  |  Gallup  | Gamerco  |  Garfield  |  Garita  |  Gila  |  Gladstone  |  Glencoe  |  Glenwood  |  Glorieta  |  Grady  | Grants  |  Grenville  |  Guadalupita  |  Hachita  |  Hagerman  |  Hanover  |  Hatch  |  Hernandez  | High-Rolls-Mountain-Park  |  Hillsboro  |  Hobbs  |  Holloman-Air-Force-Base  |  Holman  |  Hondo  | Hope  |  House  |  Hurley  |  Ilfeld  |  Isleta  |  Jal  |  Jamestown  |  Jarales  |  Jemez-Pueblo  | Jemez-Springs  |  Kenna  |  Kirtland  |  Kirtland-AFB  |  La-Jara  |  La-Joya  |  La-Loma  |  La-Luz  | La-Madera  |  La-Mesa  |  La-Plata  |  Laguna  |  Lake-Arthur  |  Lakewood  |  Lamy  |  Las-Cruces  | Las-Vegas  |  Lemitar  |  Lincoln  |  Lindrith  |  Lingo  |  Llano  |  Loco-Hills  |  Logan  |  Lordsburg  | Los-Alamos  |  Los-Lunas  |  Los-Ojos  |  Loving  |  Lovington  |  Luna  |  Magdalena  |  Malaga  | Maljamar  |  Maxwell  |  Mayhill  |  McAlister  |  McDonald  |  McIntosh  |  Medanales  |  Melrose  | Mentmore  |  Mescalero  |  Mesilla  |  Mesilla-Park  |  Mesquite  |  Mexican-Springs  |  Miami  | Milan  |  Mills  |  Milnesand  |  Mimbres  |  Montezuma  |  Monticello  |  Monument  |  Mora  |  Moriarty  |  Mosquero  |  Mountainair  |  Mule-Creek  |  Nageezi  |  Nara-Visa  |  Navajo  |  Navajo-Dam  | New-Laguna  |  Newcomb  |  Newkirk  |  Nogal  |  Ocate  |  Ohkay-Owingeh  |  Ojo-Caliente  | Ojo-Feliz  |  Organ  |  Orogrande  |  Paguate  |  Pecos  |  Pena-Blanca  |  Penasco  |  Pep  |  Peralta  | Petaca  |  Picacho  |  Pie-Town  |  Pinehill  |  Pinon  |  Pinos-Altos  |  Placitas  |  Playas  |  Polvadera  | Ponderosa  |  Portales  |  Prewitt  |  Pueblo-of-Acoma  |  Quay  |  Quemado  |  Questa  | Radium-Springs  |  Rainsville  |  Ramah  |  Ranchos-de-Taos  |  Raton  |  Red-River  |  Redrock  |  Regina  |  Rehoboth  |  Reserve  |  Ribera  |  Rincon  |  Rio-Rancho  |  Rociada  |  Rodeo  |  Rogers  | Roswell  |  Rowe  |  Roy  |  Ruidoso  |  Ruidoso-Downs  |  Sacramento  |  Saint-Vrain  |  Salem  | San-Acacia  |  San-Antonio  |  San-Cristobal  |  San-Fidel  |  San-Jon  |  San-Jose  |  San-Miguel  | San-Patricio  |  San-Rafael  |  San-Ysidro  |  Sandia-Park  |  Sanostee  |  Santa-Clara  |  Santa-Cruz  | Santa-Fe  |  Santa-Rosa  |  Santa-Teresa  |  Santo-Domingo-Pueblo  |  Sapello  |  Sedan  |  Serafina  | Sheep-Springs  |  Shiprock  |  Silver-City  |  Smith-Lake  |  Socorro  |  Solano  |  Springer  |  Stanley  | Sunland-Park  |  Sunspot  |  Taiban  |  Taos  |  Taos-Ski-Valley  |  Tatum  |  Tererro  |  Tesuque  | Texico  |  Thoreau  |  Tierra-Amarilla  |  Tijeras  |  Timberon  |  Tinnie  |  Tohatchi  |  Tome  | Torreon  |  Trampas  |  Trementina  |  Tres-Piedras  |  Truchas  |  Truth-or-Consequences  |  Tucumcari  |  Tularosa  |  Tyrone  |  Ute-Park  |  Vadito  |  Vado  |  Valdez  |  Vallecitos  |  Valmora  | Vanderwagen  |  Vaughn  |  Veguita  |  Velarde  |  Villanueva  |  Wagon-Mound  |  Waterflow  |  Watrous  |  Weed  |  White-Sands-Missile-Range  |  Whites-City  |  Willard  |  Williamsburg  |  Winston  | Yatahey  |  Yeso  |  Youngsville  |  Zuni  |