Most of us find it so painful to part ways with the things that we love. But sometimes, it can be the only thing to do. That's so true when it comes to that old wrecked motorbike. However, Motorbike enthusiasts find it difficult to ever have that thought of should I "sell my motorcycle," let alone auctioning it.
If it's a troublesome motorcycle, selling it makes sense. If you are still feeling skeptical, here are a few reasons why selling that scooter, moped or motorcycle is the best move you can ever make.
You barely use your wrecked bikes on the road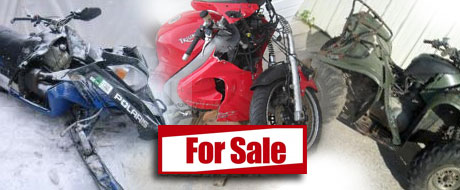 A true motorbike aficionado knows the distress of having their bikes in the garage for a long time. The reason for this could be the cold weather, a tight schedule or simply a costly repair. Keeping it for a long time in the garage may probably not help at all as the engine could have frozen after being stored for such a long time. Therefore, "sell my motorcycle" sounds like the better option.
Saving for that getaway trip
If thinking about getting away from the hustle of city life, perhaps a holiday trip far away is a good idea. Early planning goes a long way to making it successful. You can start saving by selling all those unwanted items in your house. If you have that old motorbike or simply a rarely used motorcycle, it can add some money to your holiday spending money.
Clearing a debt off by selling a motorcycle
Debts are almost unavoidable. And using the income that you had budgeted to pay off a debt can ruin your entire budget for that month. Instead, if you have that bike which you never use or is simply too old to be revived, you can sell it and use the funds to clear your debt. The thought process to "sell my motorcycle" is one of the best solutions to clearing your debt.
An enlarged family
Back in the days when it was just yourself and your partner, it was easy to carry them on the back of your motorbike while heading out to work. But if your family has expanded, then it is not practical. You have kids that need to be dropped off to the school gate, you may also have to drop your partner at work etc. It may be time to upgrade to a family a car instead. It doesn't have to be an expensive one. A used one in good condition can as serve the purpose. Sell your bike and use the money to get yourself a car.
Embrace a safer option by
Riding your bike can be more fun, but also poses a great threat of sustaining serious injuries if involved in a minor accident. It can be as a result of a careless mistake of other road users but no one can deny that bikers are more vulnerable than car users. Therefore, you may opt to sell it and get yourself a car instead.
There are plenty of other reasons you may opt for, but the "sell my motorcycle for cash" option is the most suitable remedy.
The ultimate solution
If you are ready to sell your bike, you need not struggle to find a buyer. The Bike Buyers offers the best and simplest platform to sell your bike with ease. Regardless of the make, model or age, you can get an instant quote right away!
You don't have to do anything either. Simply fill the simple form at bikebuyers.com with the make, model and your postal address. You will receive an estimate right away and you could have the cash in your bank account that day. The Bike buyers will come to your place and pick your bike.
Start the "sell my motorcycle" process right now and get an instant quote and cash within minutes!
https://6nt328.p3cdn1.secureserver.net/wp-content/uploads/2016/06/image1-2.jpg?time=1682507715
630
1500
Saad Beg
https://www.thebikebuyers.com/wp-content/uploads/2016/04/the_bike_buyers_logo-300x138.jpg
Saad Beg
2017-11-24 23:57:27
2018-10-03 16:59:28
Sell My Motorcycle for cash: Is It A Good Option?